There are many problems that afflict relationships infidelity, abuse, addiction or petty problems and then Intimacy becomes a pale memory, making it difficult to negotiate with your partners and live with it. One such problem is when your partners are not hot anymore or does not heat things up for you, and you just can't tell them about it, in spite of having good communication with each other.
Communication is the foundation that keeps all relationships intact, but in this matter, it doesn't seem to work. If it's not hot, then it's not hot, hence, nothing can be done or said. Therefore, people can't tell anything to their partners, as they are trying and putting all efforts to be hot and heat things up, yet, it doesn't seem to work and since things are not turning hot anymore, people also begin to lose interest in their partners and finally they part.
also, read 12 Extremely Stupid Things People Do In The Name Of Love!
We had some people share how they can't tell their partners that they're not hot anymore.
1. Vocalization
When we are both in the act and he's on top of me, I happen to be doing all the howling and yelling and pleading for more, but he carries on performing quietly, silently with no vocals just staring at me dumbstruck. This blank stare is so hilarious, that I can't tell him anything.
2. Sexy Dance
My ex would try to entice me most of the time performing a sexy dance. When she did it the first time, we were both drunk, then she began to do it quite often, which became very agonizing and embarrassing. She seemed to be very proud of her moves shaking and gyrating at me, hence, I couldn't tell her for almost 4 years that we were together. Now she's married and I wonder about her poor husband going through all those shakes.
3. Act like a pornstar
We both watch porn together at times, but the worst part is when she tries to perform like a pornstar and fails miserably. She has repeated it many times and I just can't tell her that it doesn't look hot anymore. Sadly I have to bear with it.
4. It's just not cute! "Daddy"
Whenever I and my partner are in the mood to have it out, she would come out with the weirdest thing, that she wants her daddy. This really would put me off whenever she mentioned her daddy. No doubt, I quailed and grumbled from within and just can't tell her as to why she does that every time. Today we have split but I feel it had nothing to do with daddy. 5. Teeth
My girlfriend always uses her teeth when giving me a BJ and thinks that she's doing a great job. Though I brought it to her notice many times faintly, I can't tell her on her face grossly and hurt her. Hence, no more BJs, we just have wild sex.
6. Cruella De Ville
My ex would hum burlesque style music, every time she changed, trying to do the seductive style stripping in front of me. Everything seemed fine, except her melody would transform into the Cruella De Ville theme from the movie 101 Dalmatians and she didn't fathom it for months until I finally brought it to her notice and LOL.
7. It's just not cute! Tug.
During sex, my ex-girlfriend was in a habit of pulling my hair, not those cute tugs, but literally, pull it strong and hard. Though it didn't look hot anymore to me, later on, I came to understand she was doing that as a support not to fall off from the bed, as she would be on top of me and it happened in the heat of passion.
8. Nude photos
She doesn't understand that I've seen her inside out, yet she loves to send me her nude photos. I just can't tell her to stop sending it as pictures don't make me hot anymore. I believe in a live show. also, read 12 Weird And Fake Things Women Secretly Use To Look Hot
9. Huge Head
I am without any partners, but I met this guy recently and was somewhat attracted to him, so I happened to overemphasize on his skills as he kept on seeking for some compliments. I had no intentions to hurt his feelings, but he carried on boasting his traits. All this has given him a huge head and now I am not hot anymore for him. I wish the next girl has the guts to tell him his huge head status bluntly on his face.
via
10. It's just not cute! "Yeah I guess"
We would be in an empty movie theatre and after some fondling, I try to kneel down and start to tug out his belt, then I ask  "Do you want me to?" or "May I?" and he'd say "If you want to" or "yeah I guess" In the beginning it sounded cute, maybe he was shy or being extra polite, Well, now the truth has been revealed that he was actually a very boring character and was just being passive and was not hot either.
11. Aggressive
My girlfriend very aggressively gives me handjobs as though, my manhood is going to tear off and if this happens then there is no way that I will ever stand again for another handjob. I can't tell her to stop as I enjoy it to a certain extent, but them then gradually it's not hot anymore.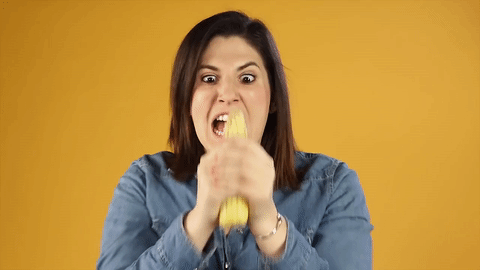 12. Faking It
They say fake it to make it, but in cases where the partners make a hell of a noise to such an extreme volume, that it starts looking obvious and feels fake totally and not hot at all. When this happens it instead makes people feel guilty, that they are not somewhere doing a good job, that's why she's faking. 13. It's just not cute! T-Rex Arms
Once, while I and my girlfriend were making out, she made a velociraptor screech and put up T-Rex arms while we were in the heat of it, that really turned me off, seriously. I can't tell her not to do it next time as she enjoyed it.
14. Karaoke
I met this chick at karaoke with whom I slept and she had this peculiar taste for the Kid Rock/Sheryl Crow song 'Picture" which she wanted me to sing during making out time. On request first time I sang it for her, but when she kept insisting the third time, I just refused and made an exit from there. 15. Chomp
This weird guy once made me chew the end of his manhood, which literally I happen to put it in-between my grinder, bite it hard and chew on it. To be honest I did it just to please him. Luckily, that got me educated on the chewing surface part of a man's manhood.
also, read Sexual Or Weird Things Coworkers Have Slyly Told Their Colleagues
We hope you liked this article on how people can't tell their partners that they're not hot anymore.